Best Timeshare Companies
Major hospitality companies have excelled in the timeshare industry since 1984, when Marriott first entered the timeshare sector. Ever since, world-renowned names like Disney, Hilton, Wyndham, Hyatt and Westin have joined Marriott at the top of the best timeshare companies in the world.
Developing some of the best timeshare resorts that attract owners and members back year after year, these timeshare developers have consistently built resorts that combine quality accommodations with outstanding amenities.
These top brands host timeshare resorts in a wide variety of destinations, from pristine beaches to leading ski resorts, picturesque mountain communities, theme park locations, urban townships and more.
Featuring condo-style units with all of the modern conveniences, the best timeshares give you comfort and space to spread out with the updated technology you need to stay in touch with friends and family back home. This is what you get when you buy into programs operated by timeshare companies known for excellence.
The Best Timeshare Companies – Resort Developers You Can Rely On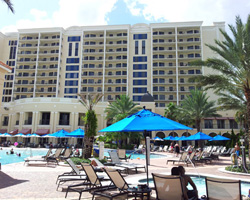 If you've traveled much at all, you'll recognize these timeshare developers, as many of these brands also operate hotel chains around the world. This provides added benefits for timeshare owners, as their hotel loyalty programs are often linked with vacation ownership.
Points-based memberships such as Marriott Vacation Club and Hilton Grand Vacations align their systems with their respective loyalty programs like Marriott Bonvoy and Hilton Honors, respectively, to give owners even more vacation choices.
Some hospitality companies, such as Hilton, have been around for over a century. These companies provide superior vacation accommodations that have stood the test of time yet evolve to meet the needs of modern travelers. They are the obvious choice when looking for the best timeshare companies.
What sets the best timeshare companies apart from a typical hotel or resort
Rather than vacationing in an ordinary, compact hotel room, there's nothing quite like relaxing in the comfort of your very own timeshare unit. These resort properties provide guests everything from studio size rooms to one-bedroom, two-bedroom, - three-bedroom and even four-bedroom Presidential suites. No matter what your request, many of the best timeshare resorts are able to accommodate exactly what you're looking for.
The most popular timeshare layout is a two-bedroom configuration, with most timeshares including kitchen facilities along with separate living and dining areas. The best timeshares tend to include multiple bathrooms along with full kitchens, furnished balconies and upgraded technology such as flat screen TVs and high-speed Wi-Fi.
Units range from about 350 square feet for studio units to nearly 3,000 square feet in size for the largest, luxurious timeshare suites. With the points programs offered by these timeshare developers, you can stay in any size unit you wish, based on the amount of points you own and according to your travel needs.
The best timeshare resorts also tend to offer the best amenities, ranging from onsite water parks to golf courses, multiple swimming pools, and children's activity programs. Restaurants, bars, award-winning spas and modern fitness centers are also staples of these amazing resorts.
The Best Timeshare Company Brand Names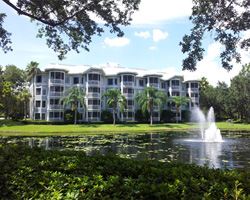 We've mentioned some of the best timeshare companies, but what makes them so special? Why do so many of the best timeshare resorts requested every year come under these brands? Let's take a look.
Marriott Vacation Club
Over the years, Marriott timeshares have provided millions of owners and guests from around the world with outstanding vacations. With over 60 Marriott timeshare resorts found across four different continents; more than 420,000 MVC owners can choose highly sought-after resorts in some of the most famous and popular destinations in the world such as Aruba, Vail and Maui.
Marriott offers an excellent range of vacation experiences, from ski-in, ski-out facilities in Park City to Broadway shows in New Yor City. International destinations like Thailand and Australia are also available for your bucket list.
Disney Vacation Club
Disney first entered the timeshare business in 1991. Today, over 250,000 members can choose from 12 unique Disney timeshare resorts in Orlando, right on Disney property, with more being developed, each offering their own style and amenities.
For example, Animal Kingdom Lodge puts you right in the heart of Africa with views of African wildlife from either Jambo House or Kidani Village. Bay Lake Tower provides guests with incredible views of Cinderella's Castle and direct access to the monorail system.
Four additional Disney timeshare properties can also be found in Vero Beach (FL), Anaheim (CA), Oahu (HI), and Hilton Head (SC).
Hilton Grand Vacations
The Hilton name is synonymous with excellence, and this tradition has carried over to its timeshare resorts. Beginning with its first timeshare resort in 1994, The Flamingo in Las Vegas, HGV has expanded to 55 Hilton-branded vacation ownership resorts across the United States, Caribbean, Mexico, Europe and Asia.
Now up to 715,000 owners following its acquisition of Diamond Resorts, Hilton offers multiple vacation options in some of the best timeshare resorts in the world. From the glamour of Las Vegas and New York City to the beaches of Florida, California and Hawaii, every expectation can be met.
Wyndham Vacation Ownership
The largest timeshare company in the world with over 900,000 owner members, Wyndham has 245 timeshare resorts in its network as part of the Wyndham Destinations portfolio.
Highlighted by its Club Wyndham program, an incredible variety of locations are on offer across the U.S., Caribbean, South America and Australia.
Looking to explore cities? Wyndham has the best range of urban locations to choose from such as Washington, D.C., San Diego, San Francisco, Atlanta, Nashville, San Antonio, New Orleans, Honolulu, Las Vegas and New York City.
Whomever you choose to take a timeshare vacation, you'll find terrific options among the available inventory on BuyaTimeshare.com.
Browse the Best Timeshare Companies
Ready to find your dream vacation home? Browse available timeshares at the best timeshare resort brands in the list below.