Timeshare Resorts
Timeshare resorts offer outstanding accommodation value for visitors planning their next vacation. Because today's consumer is much more discerning in their vacation selections, timeshare resorts have adjusted to the requirements of travelers looking for an accommodation product which suits their specific needs.
What is a timeshare resort?
A timeshare resort provides vacation accommodation similar to a leisure resort, but with the ownership of the resort shared among multiple buyers.
Consumers purchase a share of the resort, often in the form of a week's worth of vacation time in order to stay in the resort. Timeshare resorts can have thousands of owners sharing in the cost, not only as a part-owner but also sharing the maintenance costs of the facility. This makes timeshare ownership attractive to buyers who would otherwise not be able to afford a whole-ownership vacation home in high demand vacation destinations.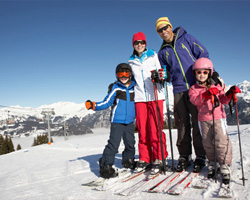 Ownership is usually in the form of either a deeded interest or a right-to-use interest in a resort or club program.
Deeded interests are considered real estate and can be for a fixed week of time in a designated unit, a floating week where the owner can reserve from options over several weeks or take the form of points-based ownership.
Usually in the form of a Club membership such as Disney Vacation Club or Hilton Grand Vacations, the owner uses points to book accommodation in their deeded home resort or other timeshare resorts within the Club network.
With right-to-use, the owner purchases the right to stay in a timeshare resort or book accommodation in a Club program. Such ownership is typically in the form of a Trust, rather than deeded, and subject to the rules and regulations of the timeshare company or developer. The model is more often used internationally in places like Mexico or across Europe.
Are timeshare resorts like hotels?
Rather than being stuck with a traditional hotel room, timeshare resorts offer units ranging from studio apartments to one, two and three-bedroom villas. Looking for a luxury penthouse to host your next trip? These resorts can accommodate some of the most exotic requests.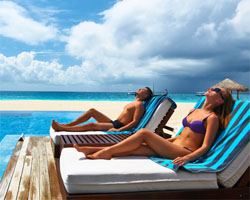 Timeshare resorts typically offers condo-style accommodations with home-like features such as separate bedrooms, living areas, fully equipped kitchens and in-unit washer/dryers which sets them far apart from hotels.
While some hotels offer similar features such as kitchen and living spaces, most do not compare to the full living rooms and upgraded appliances and touches such as granite countertops provided by many leading timeshare resorts.
What amenities does a timeshare resort include?
Amenities can be similar to a regular resort, such as swimming pools and hot tubs, but timeshare resorts are known to offer much more than the basics. Multiple pools with water slides, lazy rivers, onsite water parks and swim-up bars are just the start. Others offer water sport toys, award-winning restaurants and ski-in, ski-out access for the winter sports warriors.
While the villas are always important, amenities can make or break a vacation. This is why it is important to have your vacation priorities in order when looking at timeshare resorts. For instance, programs such as Marriott Vacation Club are known for their terrific children's activity programs, so if you have kids you may want to look closer at Marriott.
It is great to be at the beach, but do you want more than just laying on the sand all day? Several timeshare resorts offer water-based activities and even snorkeling and scuba diving where you can really get into the action. Or look for a timeshare resort with an onsite Health Spa that can give you a massage at a private cabana on the beach.
Others offer golf packages, world-class fitness centers, sports courts, movie nights under the stars and even complimentary use of bicycles to cruise through the more leisurely destinations.
What is the best timeshare resort brand?
Some of the world's leading hospitality brands are now in the timeshare resort space, with Marriott holding the reins as the longest-tenured brand name in vacation ownership since 1984.
Marriott's timeshare resorts in Aruba, such as Marriott's Aruba Ocean Club and Marriott's Aruba Surf Club, are some of the most sought-after timeshare resorts in the world. Marriott now hosts resorts in over 60 destinations across four continents as part of its Vacation Club network.
Even Disney saw the advantages of offering timeshare resorts and decided to enter the timeshare market in the early 1990s.
Is there a hospitality brand that elicits more emotion and loyalty than Disney? That should tell you all you need to know about the credibility of the product, and Disney resorts such as Disney's Wilderness Lodge and Disney's Animal Kingdom give vacationers unique experiences even if they do travel to Orlando to see Mickey Mouse and the team in the Magic Kingdom. Disney's expansion to Hawaii through its Disney's Aulani Vacation Club Villas shows that they are more than just the Mouse House.
Other excellent timeshare resort brand names such as Hilton, Hyatt, Wyndham, and Westin have been a part of the timeshare family for years, with the Hilton Grand Vacations Club at The Flamingo offering a great way to experience Las Vegas in style.
Westin's renowned Hawaii properties offer luxury and sophistication through their Westin Ka'anapali Ocean Resort Villas and Westin Ka'anapali Ocean Resort Villas North timeshare resorts. But you'll need to move fast to stay in one of these as they are extremely popular among vacation ownership enthusiasts.
Find the right timeshare resort for you
Whatever your destination desire requires, you'll exceed expectations with timeshare.
Below you will see our alphabetized list of the estimated 4,000 timeshare resorts in our system. These encompass resorts from around the world in places beyond the U.S. such as Mexico, Canada, the Caribbean, Central and South America, Europe, South Africa, Asia and as far away as Australia and New Zealand.
If you know the first letter of the resort name you wish to research, just click onto the letter in the bar below. Then scroll down until you find your resort. Otherwise, you can enter the name into the search bar at the top of the page.
Have fun and if you have any questions, please give us a call on 800-640-6886.