How to Rent a Timeshare
Timeshare rentals are the true hidden jewels of the travel industry. Many travelers automatically book a hotel room when they take a vacation, not realizing that they could be renting a multi-room resort accommodation apartment with all the amenities of home for much less than many hotels charge for a simple room.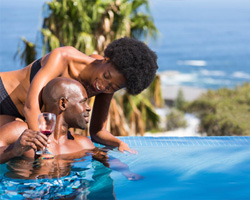 When compared to vacationing in a hotel, do yourself a favor and discover how to rent a timeshare to get the most out of your vacation. Renting a timeshare at a resort offers outstanding value for the accommodation, often at half the cost of a hotel room in high demand locations such as Orlando and Las Vegas. By renting a multi-room timeshare unit, families don't have to rent multiple hotel rooms and can save on accommodation - putting that money to better use during the vacation.
Amenities Make the Difference
Because most timeshare units come with full kitchens, you can eat in and save more money instead of dining out for every meal. And with private balconies, spas, multiple bathrooms, laundry facilities and separate dining areas among the in-suite amenities, it's obvious that timeshare rentals are really the only way to vacation.
Timeshare resorts have come a long way over the years from their initial entry into the hospitality industry. Where once they offered just a converted hotel room, now they have multiple pools, full health spa services, Jacuzzis, workout facilities and kids play areas - many with programs for the little ones. Some have water slides, lazy rivers and pool bars for that poolside cocktail. While some vacationers look to home or condo rentals for vacation accommodation, those options wouldn't be able to combine the level of service with the resort facilities that timeshare rentals can provide.
Where to Start
When deciding how to rent a timeshare, the process is similar to booking other holiday accommodation, but with more options. Whereas most people begin with their destination, then look for the best priced hotel option, timeshare rentals take more into consideration:
Number of bedrooms - this will obviously depend on the size of your family, but also check out whether the timeshare has pullout sofas in case you need them.
Meal plan - do you like to eat in more, or would you rather go out? Depending on your preferences, you'll want to check on the size and amenities offered in the kitchen of your timeshare (does it have more than just a fridge and a microwave?). And is there a restaurant on-site or eating establishment close enough to the resort that it doesn't become an issue?
Position - make sure the unit is located in the part of the resort that you desire. For instance, oceanfront is not always the same as oceanview. Some resorts are so spread out that they offer golf cart service to take you from the main building to your room. Get the specifics.
Location- research where the resort is located in proximity to the attractions in the area. If you don't have your own transportation and, for example, you're traveling to Orlando to visit Disney World, then perhaps you want a resort as close to the parks as possible or, at the very least, one that provides free shuttle service. Same with a beach location, as some resorts promoting beach access are not always on the beach.
The Process
When you've decided on where you want to vacation and the specifics of the resort and unit that you're looking for, then you can begin your search on BuyaTimeshare.com. Our site advertises timeshares for rent as well as for sale, so begin by entering your resort name or location into the search box at the top of the homepage. This will bring up a page either for the resort you're looking for or a selection of resorts in your desired vacation area. For a more in-depth search, click onto "Advanced Search" at the top right corner of the page, where you can enter in specific information such as number of bedrooms, number of bathrooms and the week of the year you're looking to vacation.
Be as specific as you can with the information you enter, as this will tailor your search to your individual needs. You can always broaden your search later on if you need to.
Once you've decided on a resort, click the blue "Timeshares for Rent" button to see the units for rent, each with a rental price advertised, and the "Unit Details" button will display more information about the timeshare.
When you're ready to make an offer, click on the yellow "Make Offer" button and the page will ask for your information in order to email your offer to the timeshare owner for consideration. One tactic you can use is to create a free account in our Timeshare Pulse program, which will allow you to receive emails with available timeshares to rent, according to your search criteria, as they become available. This will give you the first opportunity to make an offer on these rentals before online viewers get a chance to see them.
Once the timeshare owner accepts your rental offer, the owner will advise you of the process for payment and will need your details in order to book the accommodation on your behalf. There are various ways to handle this process, but we would suggest you use a rental escrow service such as the one offered by First American Title Vacation Ownership Services for distribution of funds and to ensure that the process runs as smoothly as possible.
When you receive confirmation from the owner that your timeshare rental has been secured, prepare for an outstanding vacation. You'll never want to go back to a hotel again.