Timeshare Rentals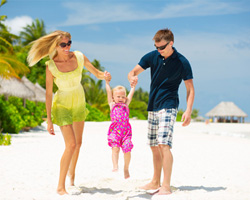 Timeshare rentals are the ideal way to first experience the elegance of a luxury vacation ownership resort without the initial long-term commitment of a timeshare purchase.
Thousands of vacationers look to rent a timeshare and enjoy the added space and modern conveniences that come with a timeshare rental, and BuyaTimeshare.com is perfectly suited to provide you with great timeshare rentals at terrific prices.
The next time you want to vacation and spend a week somewhere new and exciting, we can help you with a selection of affordable timeshare rentals. From the glamour of Las Vegas to the beaches of Mexico, you can explore stylish nightclubs and restaurants when you rent a timeshare at one of the spectacular resorts on offer on our website.
Why Use Timeshare Rentals
Vacationing is very important for your physical health and well-being. According to statistics from the American Resort Development Association, men who don't vacation regularly are 32 percent more likely to die of heart attacks; women are 50 percent more likely. These sobering facts point to the need for all of us to take regular vacations, and timeshare rentals are the best venues available to relax and unwind.
Renting a timeshare can add significant value and convenience to any vacation. Always superior to hotel rooms, timeshare units offer wonderful amenities that are not found in the typical hotel room:
Larger, condo-style units
Multiple bedrooms
Multiple bathrooms
Full kitchen
Separate living and dining areas
In-room laundry facilities
Why pile everyone onto the bed eating pizza in a cramped hotel room when you can relax and enjoy the peace and spacious living areas of a timeshare? At BuyaTimeshare.com, we can help you find the timeshare rental that meets your needs. Choose the time that you want to stay, and the price that you want to pay.
Timeshares Are Everywhere
Did you know that there are timeshare resorts in 48 of the 50 states in the U.S.? No matter where you want to take your next vacation, you can find a timeshare rental and enjoy upscale accommodation at much lower prices than comparable hotels.
The most popular states with timeshares are:
Perfect for any occasion, a timeshare vacation offers the highest quality lodging at some of the most prominent locations in the world. Perhaps you're looking for an urban destination such as New York City, New Orleans or San Francisco? We can help. Maybe it is an international locale like the beaches of Mexico, the slopes of Canada or exotic Thailand? We have timeshare rentals in these and other locations around the world to help you create your dream vacation.
By working directly with an owner advertising their timeshare for rent, you can rent vacation ownership accommodation for much less than what the resort will charge, simply because you're saving the sales and marketing costs resorts include into their prices.
Try Before You Buy
While some travelers primarily book timeshare rentals for their vacations, others are looking to try before they buy because of their affinity with a particular resort, location or hospitality brand. Once a renter is repeatedly looking for the same resort or the same location, then it may make more sense to buy timeshare rather than rent. In any case, when you rent a timeshare here at BuyaTimeshare.com, you can rest assured that you are vacationing for the best value for money in the industry.
Looking to Rent Your Timeshare?
Do you own a timeshare and are thinking of renting it out? Renting your timeshare is a great way to recoup most, if not all, of your annual fees and also introduce a new prospective buyer to the resort.
Whether you want to rent a timeshare or put your existing timeshare up for rent, you've come to the right place. Through our online marketing strategies, BuyaTimeshare.com is poised at the top of the search engines to offer the most effective platform for timeshare rentals than any other resource in the industry.
Search our available inventory, request more information through our online form at the top of the page or call us on 800-882-0296 if you have any questions. You'll be on vacation before you know it.
FAQ When Renting a Timeshare
1. Can you rent timeshares?
Yes, you can rent timeshares in a few ways. Owners often put up their timeshares for rent, advertising on website such as BuyaTimeshare.com. The owner controls the use of the timeshare, so they will advertise their timeshare rental, set the price and negotiate a booking directly with a vacationer looking to stay in the unit. The vacationer usually sees the timeshare that suits their needs, makes an offer, and negotiates the deal. Once an agreement is in place, the owner takes payment, secures the booking with the resort on behalf of the vacationer, and confirms the booking directly with the vacationer.
There are also third-party companies such as timeshare brokers that can manage the process on behalf of owners. These companies handle the process and secure the bookings and confirmations on behalf of the parties involved, for a fee or commission.
Lastly, resorts tend to have their own rental programs where a vacationer can contact the resort directly for availability to rent timeshares. Many also offer their rentals through online travel agencies. However, remember that these rentals include commissions and fees that can make these rates much higher than those from an owner looking to rent out their timeshare.
2. How does timeshare rental work?
The timeshare rental process depends on the owner of the timeshare. If the timeshare is privately owned, then the owner puts their timeshare up for rent by usually advertising it themselves on sites like BuyaTimeshare.com. Because this is a private transaction, the owner sets the price, conducts the negotiation, takes deposits and confirms the booking with the resort on behalf of the renter.
Renters will see these available timeshares for rent, inquire about availability and negotiate the deal directly with the owner. Once an agreement is in place, the renter will receive booking confirmation from the owner and proceed just as if they had made the booking themselves.
A timeshare rental can also be secured through a resort, either by contacting the resort directly or by booking through an online travel agency. However, these timeshares typically involve fees and commissions that can drive the price higher than if the renter worked directly with the private owner.
3. Do timeshares include all inclusive?
Some timeshares include all-inclusive benefits, such as meals and drinks included in the price, but this depends on the resort. Most resorts are not all-inclusive, so be sure to look for all-inclusive in the description if this is a priority before making a rental booking.
Typically the rental price of a timeshare does not include the all-inclusive component, especially when renting straight from a timeshare owner, with this package to be purchased separately. Some all-inclusive packages are mandatory, meaning that you must purchase it if you intend to stay at the resort. The package can be purchased at the time of booking, closer to the stay or at the resort itself. Some resort packages include the all-inclusive component in the rental price, so it is imperative that you do your research and ask specific questions prior to making the booking. This way you won't be surprised when you show up at the resort.
4. Can you live in your timeshare?
You can only live in your timeshare for the amount of time you have purchased, whether for a week or the number of days you have booked. There have been the odd stories of people showing up in a moving van with their belongings thinking they can live in their timeshare like a condo. However, a timeshare is a resort designed for vacationers, not full-time occupants.
With the proliferation of points packages, some vacationers stay in their timeshare for weeks at a time. But they have purchased a large number of points and have used them like a type of vacation currency in order to book those weeks at the resort.
5. How long do timeshares last?
Timeshares last for as long as the resort exists, which is usually for as long as the owners continue to support and maintain the resort. In some cases, management at older resorts with dwindling ownership have decided to place the timeshare up for sale and divide the proceeds among the remaining owners. In these cases the land is often more valuable than the resort and the resort is redeveloped for a different use.
Perhaps the more accurate inquiry is how long does timeshare ownership last. This can be anywhere from a few years (in the case of a short-term, trial program) up to in perpetuity. Many hospitality brands such as Disney Vacation Club offer limited-time ownership options such as a 25-year ownership. It is always best to ask the seller or the resort how long the timeshare ownership lasts before making a purchase, and getting it in writing.
6. What is the best timeshare?
Assessing which is the best timeshare is like asking which hotel brand is better. For example, would you rather stay in a Marriott property, or a Hilton property? This ultimately comes down to personal preferences and experiences, since one vacationer's experience at a particular resort could be very different from someone else.
As much as the hospitality brands like to maintain consistency across their properties, travelers know that this is not always the case. Often times it comes down to perks, benefits and the specific needs of the vacationer such as resort location. For example, if Aruba is a priority, then you may want to go with Marriott since they have the Marriott Aruba Surf Club and Marriott Aruba Ocean Club available on the island. By comparison, brands such as Hilton, Disney and Wyndham do not have timeshares resorts on Aruba.
Other aspects such as loyalty programs may come into play. For instance, Holiday Inn Club Vacations, which boasts resorts such as Orange Lake Resort in Orlando, is part of the IHG hospitality network. IHG Rewards Club is the largest hotel loyalty program in the world with over 90 million members, so this could significantly tip the scales in their favor.
The best way to look at this is to take inventory of your personal vacation preferences and needs and look at whichever timeshare company can best need those needs. Do you need a one-bedroom or a three-bedroom unit? Is a fully-equipped kitchen important? Are you looking for an annual ski vacation? Once you have your needs assessed, it will make your decision much easier.
7. How many times a year can you use your timeshare?
You can use your timeshare as often as your ownership allows, depending on what you own. If you own a fixed week, then you can use your timeshare during the week you own. If you own a floating or flex week, then you can use it during the week you book within the defined season of your ownership.
If you own points, then this can allow you multiple uses depending on the amount of points you own and the destination you choose. Most owners own enough points for a week's vacation in their home resort or a resort within their network, depending on the season and unit configuration. Most points ownership programs such as Club Wyndham allow you to break up your usage into various stays such as multiple long weekends. The more points you own, the more stays you can book.
Another aspect of using your timeshare is for day trips to the resort. Some resorts allow owners to take day trips to the resort to use the facilities. For example, Colorado timeshare resorts in ski towns such as Breckenridge have owners who live in nearby Denver and take day trips to the resort to access the ski trails on the weekends. Other resorts in places such as Florida can allow owners who live within driving distance to visit the resort during the day to use the resort facilities.
8. How often do you pay for a timeshare?
You pay for a timeshare in several ways, similar to the options you may have with purchasing a home or car. For the timeshare itself, you can pay in one cash payment at the initial time of purchase or you can pay over time in installments by taking out a loan for the purchase price.
Obviously the cash payment in the most economical method, and this is the way the vast majority of timeshare resales are purchased. For those taking out a loan, this is usually done at the resort as part of the purchasing agreement, similar to a car purchase at a dealership. However, be cautious since the interest rates for a resort timeshare purchase can be as high as 17 percent.
For a timeshare rental, in many cases you would pay for a timeshare the same way you would if booking standard vacation accommodation. Sites such as BuyaTimeshare.com, who feature rentals offered by private owners, have vacationers pay directly to the owner through a rental agreement once confirmation of the booking is secured.
9. How much does it cost to own a timeshare?
The cost to own a timeshare can be viewed in separate phases depending on which part of the ownership process we are talking about. There is the initial purchase price, which can be completed mainly in two ways. Then there are the annual fees that factor into the cost of ownership.
First, the purchase price. This can vary significantly depending on how you are buying your timeshare. If you buy through the resort, the average price is just over $22,000 per interval according to the American Resort Development Association (ARDA). These high prices have sales and marketing costs and commissions included into the price, and the resorts are looking to recover those and any associated management costs included in the process. If you are buying on the resale market, the price is discounted significantly because you are buying directly from an existing owner without all the marketing commissions and fees.
Regardless of whether you buy at the resort or as a timeshare resale, you can either buy in a cash transaction or by financing the purchase with a loan. Financing will obviously cost more because of the interest rates that hike the overall purchase price. Most transactions at the resorts are done with financing, whereas most resale transactions are done with cash because of the much lower price points. Remember that you can also use credit cards to purchase a timeshare, but unless you pay it off in the initial credit cycle you will be paying credit card interest on the transaction.
The on-going maintenance fees are what can impact the overall cost to own a timeshare. However, even though all timeshares incur these fees, this is more of an issue for the resort buyers than the resale buyers. Annual maintenance fees can be paid either once a year, quarterly or monthly depending on the management firm for the timeshare resort. The owner can usually choose how often their fees are paid. According to ARDA, the average maintenance fee amount is about $1,000. However, this is where the initial price factors into the overall cost of ownership.
For example, if an owner bought at the resort for the average price, with cash, and using an average maintenance fee, they would have an average spend of $2,100 per year for their annual vacations over a 20 year period. Now, on the resale market, finding a price for a timeshare in the $4000-$5000 range isn't unheard of. Using that price, the average spend comes down to closer to $1,200 per year over the same 20 years. For a week in an upscale resort at a place such as Orlando for a 2-bedroom unit, that's a pretty good deal.