Orange Lake Resort West Village Timeshare
The Orange Lake Resort in Orlando, Florida is so big that it's split up into four sections:
Each section offers unique amenities and floor plans that you should review before choosing a timeshare to buy or rent. Knowing your options will help you decide what timeshare is best for you. To aid your decision, we've identified the key highlights from the Orange Lake West Village section of the resort below.
Browse all Orange Lake timeshares for sale and rent
Unique Amenities
The following amenities are the closest to West Village, but know that they're not exclusive to the guests staying in this section. For example, guests staying in Orange Lake West Village timeshares are absolutely permitted to use the Lazy River in the River Island section and vice versa. West Village is the largest and most spread out village at Orange Lake, so it naturally has the most amenities. Some of the most attractive amenities in West Village include:
Marketplace Shop
A nice little convenience store where you can grab some coffee and stock up on groceries, beer and sunscreen. Make sure to grab a free sample of fudge while you're there!
Surf Shack
A poolside beach shop with swimwear and accessories. A great place to pick up a souvenir of some resort-branded memorabilia before you head home.
Breezes restaurant
This new restaurant is located right on the pool with beautiful sunset views. Guests love the live entertainment, patio bar and delicious food. The menu ranges from hamburgers, fish tacos, wraps, a very popular nacho dish and more.
Pool at water's edge beach club
This zero-entry pool has an entry point on the edge that gradually slopes down into the water. This makes it perfect for adults looking to dip their feet in the water while sipping on their favorite alcoholic beverage.
Crane's Bend Golf Course
This 9-hole course is one of four courses at Orange Lake. Being the newest course at the resort, guests love how well-kept the greens are, and of course, the beautiful scenery and wildlife along the way.
The Reserve at Orange Lake Resort Golf Course
This 18-hole course is 6,505 yards and was designed around the wetlands to help guests immerse themselves in the spirit of Florida. If families with children are looking to play an 18-hole course at Orange Lake they'd likely have a better time at this course than the championship Arnold Palmer Signature course in East Village.
Available Floorplans
Orange Lake West Village timeshares offer studio, one-, two-, and three-bedroom villas. This is the only village that offers studio villas. If you're in need of a four-bedroom villa, check out the River Island section of the resort. All units come equipped with a kitchen, patio/ balcony and TVs in the living room and bedrooms. Some rooms have a full-sized washer & dryer and a spa tub with hydro-jets.
Orange Lake Map
(Click to enlarge)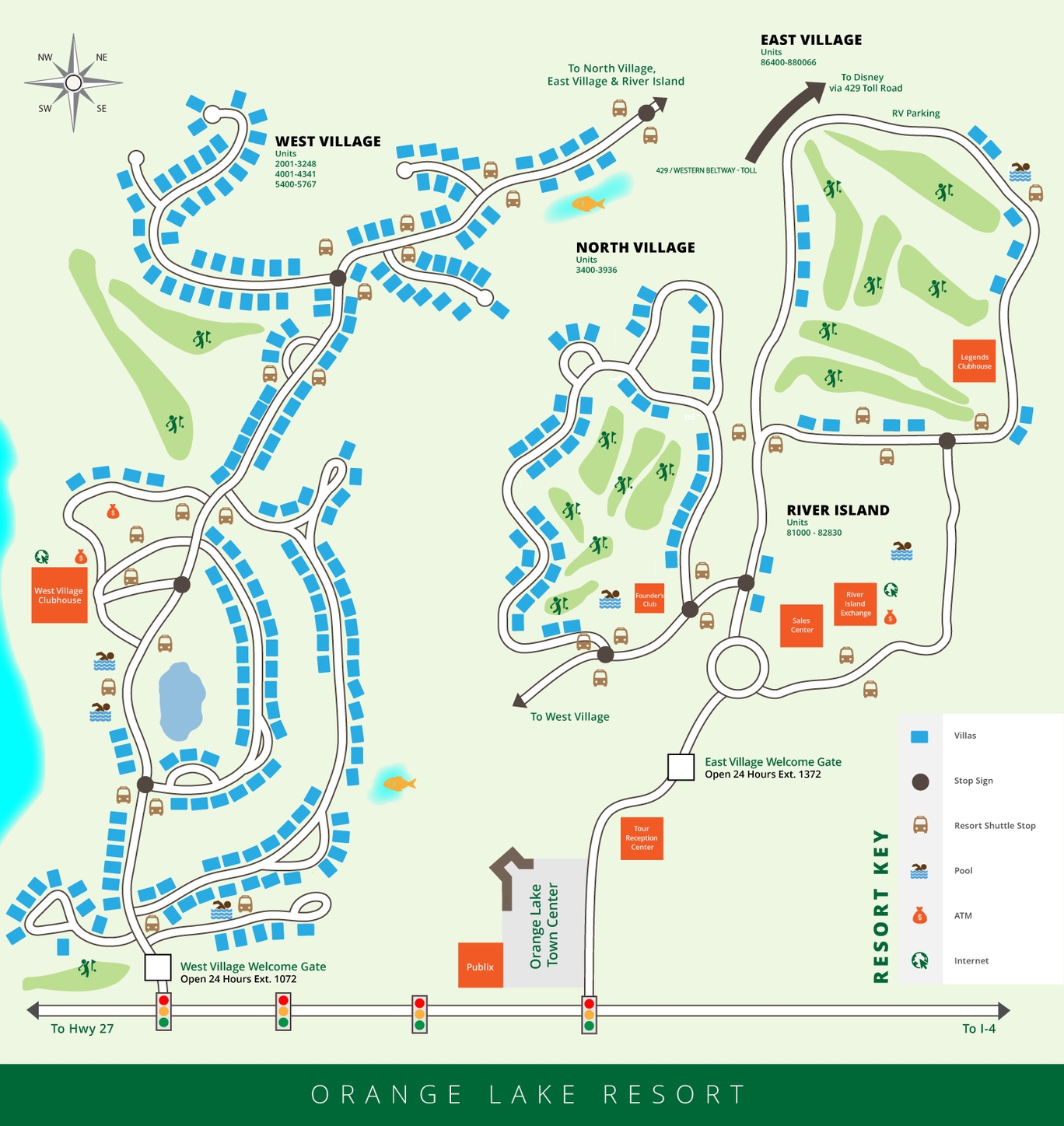 Why Vacation at Orange Lake?
The Orange Lake Resort in Orlando, Florida is only 3.1 miles from Walt Disney World. Perfect for families looking to hit the parks without paying the premium at one of the Disney branded resorts. The amenities at this resort are plentiful and include seven pools, four golf courses, nine restaurants, arcades, a lazy river, a lakeside beach and much more. What's not to like? Buy, sell or rent an Orange Lake Resort timeshare in Orlando, Florida today!