Orange Lake Resort River Island Village Timeshare
Orange Lake Resort in Orlando, Florida is the largest single-site timeshare resort in the world! For organizational purposes each section of the resort has a different name:
Those who buy an Orange Lake River Island timeshare love the tropical island atmosphere, 1,200 foot lazy river and other fun activities right outside their doors. Learn if Orange Lake River Island Village is the best option for you and your family and freinds below.
Browse all Orange Lake timeshares for sale and rent
Unique Amenities & Activities
Guests staying at Orange Lake River village may access the amenities and activities at all other sections of the resort, but the following are the closests and most convenient to River Village.
Lazy River
This massive lazy river weaves in and out of pools, waterslides, waterfalls, spas, restaurants, bars and more. It's a great place to relax and soak in some sun. 
Swimming Pool
A zero-entry beach style swimming pool is another good place to relax and read a book or listen to some music. Zero-entry means that you can take a quick dip by walking into the pool at an angle rather than submerging yourself completly.
Minauture Golf
Play a round of minature golf at River Island's 36-hole miniature golf course. This is one of two minature golf courses at Orange Lake.
Other Amenities
Don't miss the pool bar, Treasure Cove arcade and The Hippo at the Fun Zone water area when in River Village. These popular amenities keep guests coming back.
Available Floorplans
Choose from a one bedroom that sleeps four, a two bedroom that sleeps eight a three bedroom for 12 or a four bedroom villa that can accommodate up to 16. You'll never feel crowded when you buy an Orange Lake River Island timeshare because you can pick the exact size villa you need. All villas come with televisions and a DVD player, a kitchen filled with everything you need for cooking, and WiFi access. Some villas even come with a spa tub and a washer and dryer. You'll also get your own patio or screened in porch too. 
Orange Lake Map
(Click to enlarge)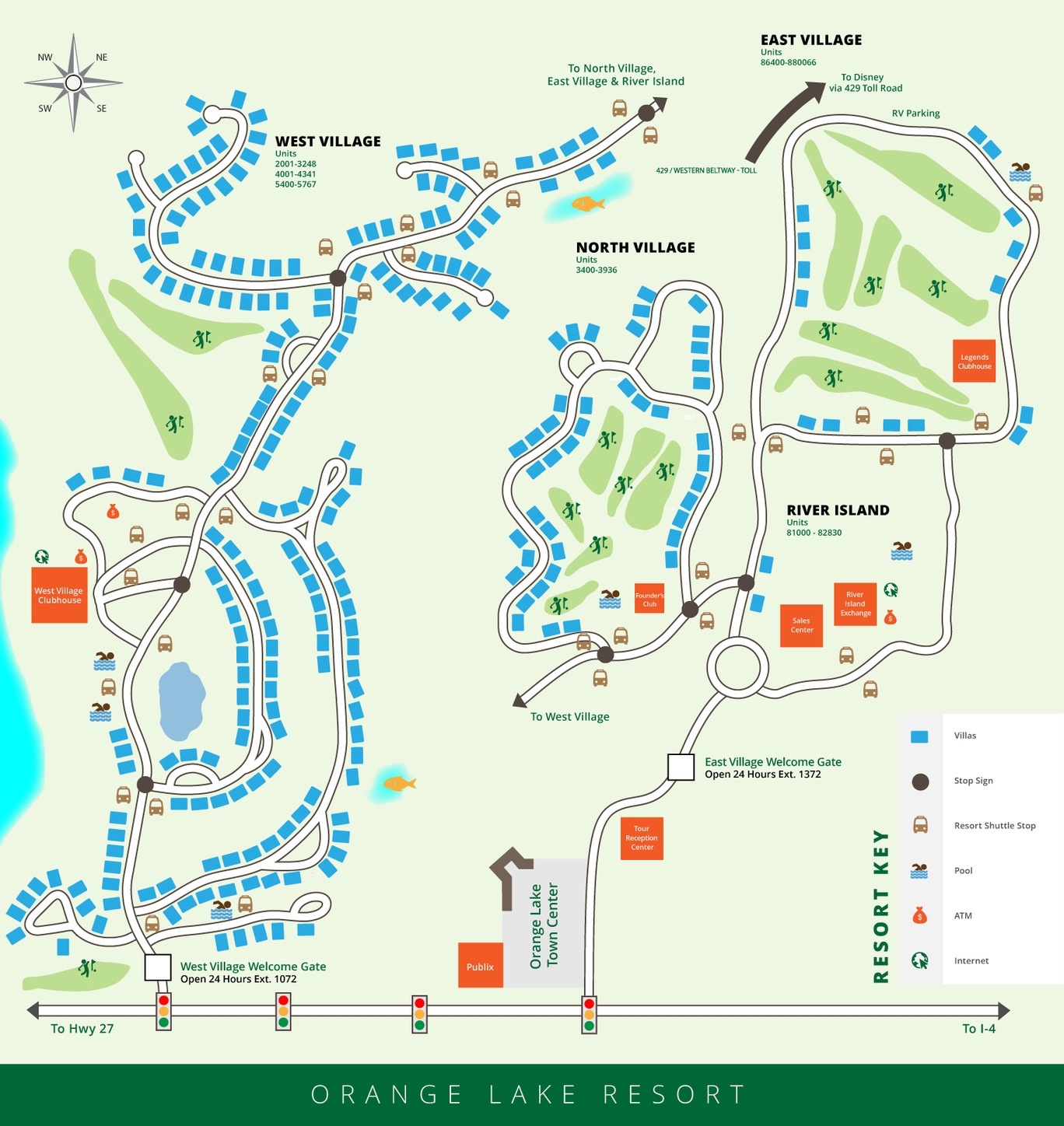 Why Vacation at Orange Lake?
When you stay at River Island, you're less than 13 minutes from all Disney parks and less than 30 minutes away from Sea World and Universal Studios. There are seven pools, four golf courses, nine restaurants, arcades, a lazy river, a lakeside beach and much more at Orange Lake. Enjoy everything from cultural sites to amusement parks with your family and friends. Buy, Sell or Rent an Orange Lake timeshare in Oranldo, Florida today!