Wyndham Orlando Timeshares For Sale
Wyndham has several timeshares available for sale and rent in and around Orlando, Florida. Whether you're looking for a low-cost option or something a little more luxurious, Wyndham has something to offer you. The company has three resorts in Orlando itself and three more resorts right next door in Kissimmee. Browse Wyndham Orlando timeshares for sale below and then make an offer to an existing owner on our website and save up to 50% off.
The WorldMark Kingston Reef timeshare resort provides guests with a central location on International Drive near Orlando's top attractions including Walt Disney World, Epcot and Sea World. The resort itself is low-key and comfortable. A few pools, hot tubs, kitchen in-unit and washer / dryer down the hall. Perfect spot for an inexpensive family vacation in Orlando.
Address: 12000 International Dr, Orlando, FL 32821
Reviews:
"My family has been coming here every year since 2011. We absolutely love it! Perfect location. Cozy hotel. Not expensive, and has everything we need. WorldMark runs a quality operation."
The Wyndham Bonnet Creek timeshare resort is a more up-scale option offering guests beautiful landscaping, spacious accommodations and a prime location to Orlando's theme parks. This is a massive multi-building property with five pools, hot tubs, lazy rivers, water slides and more.  1-, 2-, 3- and 4-bedroom suites are available at the Wyndham Bonnet Creek.
Address: 9560 Via Encinas, Orlando, FL 32830
Reviews:
"Upon arrival to Bonnie Creek Resort, we found the cleanliness and décor to be breathe taking and well cared for. The staff was excellent, very organized and helpful. The accommodations for acquiring tickets for the theme parks and attractions was well staffed. Our two-bedroom condo suite was wonderful and top quality. It was perfect in every way. From the linens / supplies to the beautiful décor. The master suite had a huge master bath, with a large jetted tub and a separate walk-in shower with a personal toilet area. The kitchen was set to be a pleasure place for great for cooking and entertaining. The connecting dining and great room were very spacious, with a beautiful view to patio and outside panoramic view. The condo has beautiful pools, landscaping, walking paths, areas to grill and eat, bar and restaurants, which makes it unnecessary to leave resort. Our week stay was above excellent, we wished we could live there, instead of just vacationing. Bonnie is very family orientated, but also ideal for couples and singles."
"Wyndham Bonnet Creek Resort is located less than one mile from Epcot at Walt Disney World. Sharing quality time with your family and friends is very important. And Wyndham Bonnet Creek Resort should be part of creating lifelong MEMORIES. Nestled among 70 acres of trees, the Mediterranean style resort showcases an extensive array of amenities, including: 5 OUTDOOR SWIMMING POOLS, LAZY RIVER, "PLAY DAYS" PROGRAM, OUTDOOR PLAYGROUND, MINIATURE GOLF, 2 EXERCISE EQUIPMENT AREAS, RECREATION ROOM WITH POOL TABLE, ARCADE. Everything you need for great vacation. And don't forget Orlando International Airport is only 30 minutes away."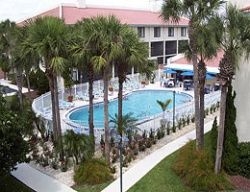 TheWyndham Orlando International Resort Club is also located on International Drive just one mile away from Universal Studios Orlando and a few minutes from Downtown Orlando. It offers large, clean rooms, live music and entertainment and themed dining experiences. Amenities include an outdoor pool, fitness center, hot tub, basketball court and more.
Address: 5353 Del Verde Way, Orlando, FL 32819
Reviews:
"We love coming here on our trips to Disney. It doesn't have all the bells and whistles, but we don't need all that in Orlando. We come for the parks. This resort has enough to make our stay enjoyable though."
Wyndham Timeshares Near Orlando
The Wyndham Star Island Resort is right next door to Orlando in the neighboring city of Kissimmee. Despite its address, it is still just a short 10 minutes from Walt Disney World. This family-friendly resort offers several outdoor activities including golf, tennis, water sports and fishing. Kids can get their face painted and enjoy the on-site game room as well. All suites have a kitchen, living room and more.
Address: 5000 Ave of the Stars, Kissimmee, FL 34746
Reviews:
"Welcome change coming back to our home-resort. I made it a point to make a reservation at the Spa at Star Island. I had a massage, a pedicure and had my nails done. This was so wonderful for me because I usually do my own. Oh! I just sat there and relaxed and I truly felt like a celebrity...
We had such a tremendous week! Swimming and boating in March? Are you kidding...my friends up north were so jealous!
I just loved our Villa. The Master Bedroom is beautiful with a comfy King-size bed and a whirlpool BIG bathtub! The Resort is all what it is described as and we had a wonderful week shopping, dining out and of course going to Walt Disney World. I just love going there to see all the new things which were added since we were there the last visit. Believe me, there is LOTS to do and see!"
The Wyndham Cypress Palms offers guests two heated swimming pools and hot tubs, board games, arcade games, card games, ping pong, BBQ areas and more. It's a short drive away from Walt Disney World, Universal Studios, SeaWorld and more. All units have a washer/dryer, wireless Internet and fully equipped kitchens.
Address: 5324 Fairfield Lake Dr, Kissimmee, FL 34746
Reviews:
"We have stayed at several Wyndham properties which includes Ocean Walk, Cypress Palms, and Bonnet Creek. I must stay that our stay was above average. The places are impeccable clean, the suites were beautiful and very spacious and the amenities were OMG, so beautiful. We especially loved the beach at Ocean Walk and the lazy rivers. Our girls would spend hours in the lazy river bouncing back and forth to the beach, the water slide and the lazy river, and comes evening they would be in the heated indoor pools. We ate at the restaurants on the premises and also ate off properties and I must say, the food on premises was great. We received complimentary drinks and free parking. I would give my stay at these 3 properties a *****. Thanks for reading..."
This is a brand-new resort located just a few minutes away from Disney.  As a more up-scale resort experience, the resort is located right on three luxury golf courses. There are eleven restaurants at this resort, some with very fine dining menus as well as several pools, lazy river, tennis courts, game room and more. Truly a more up-scale accommodation for your Orlando vacation.
Address: 7593 Gathering Dr, Kissimmee, FL 34747
Reviews:
"We love new buildings, so this resort was perfect for us. Everything looked and smelled new. New construction. New furniture. Beautiful golf courses. Beautiful views from the room. Just a great resort in Orlando. If you want to enjoy the resort experience in addition to Orlando's attractions, this is a great resort to do it at."
When you've found the Wyndham Orlando timeshares that fit your vacationing lifestyle, just make an offer to buy or rent a timeshare at that property on our website by clicking the "make offer" button. All timeshares advertised on our website are for sale and rent by owner, which means significant savings for you. If you need help don't hesitate to give us a call at 1-800-640-6886.