Sell Timeshare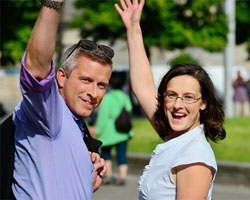 Wave goodbye to your timeshare with BuyaTimeshare.com
Are you trying to sell a timeshare but not sure where to turn? Perhaps you've spoken to other companies who claim to be able to sell timeshare, but you're just not convinced about their credentials.
"We can help you sell or rent your timeshare                     It's really that simple"
We understand that sometimes it's not easy to sell a timeshare, but through our online marketing strategies and timeshare industry partnerships, we have risen to the top of our field as the most-trusted timeshare resale company in the industry. 
Helping owners sell timeshare since 2000

Over one million visitors to our website annually

$100 million in buyer and rental offers in last two years

Endorsed by influential timeshare owner groups

Timeshare industry approved

Higher than average "sold" amounts
Start today by filling out the no-obligation form to the right and our representative will contact you shortly to find out more about your timeshare and how we can help you. Begin the process as soon as you can and you'll no longer be searching for a way to sell a timeshare – because you've already found it.
Timeshare Owners Approve of Buyatimeshare.com
We are the only resale company in the world to be vetted by the two most prominent timeshare owners' associations, the U.S-based National Timeshare Owners Association and U.K.-based TATOC, The Timeshare Association. Our relationships with these two owner-based groups, and other associations around the world, proves our commitment to help owners transition out of their timeshare ownership in a safe and effective way.
Owners looking online to sell timeshare are ahead of the curve, as a 2012 report by the American Resort Development Association explained that 32% of all buyers purchased timeshare through the resale market, with an online timeshare resales listing company mentioned as the preferred resale channel.
The Resale Market Drives Offers and Sales in the Timeshare Marketplace
Since then, the resale market has developed significantly and, through our combination of search engine optimization and online marketing efforts, we consistently target those buyers by appearing on page one for Google for online search terms such as "buy a timeshare", "timeshare resales" and "timeshares for sale". Google itself states that about 129,000 consumers per month search for timeshare information from just those three sets of search terms. That's a significant amount of people looking for the timeshare product.